Mike Suchanek Coasts to Wins on Leatherdale Farms' Young Horses
Mason City, Iowa – July 6, 2016 – The scores for Mike Suchanek and Leatherdale Farms' young horses have continued to skyrocket. They had a winning streak at the Dressage Lite I and II show, held June 24-26 at the North Iowa Events Center in Mason City, Iowa. The team racked up impressive scores, reaching into the 80 percent range, and Suchanek won every class, only coming in second to himself.
Mike Suchanek and Delta L.
Photo by Jessi Lash.
"I'm very pleased with the results of the show," Suchanek said. "The horses showed off their abilities really astoundingly, and they really earned their scores from well respected and distinguished judges."
The 5-year-old Hanoverian mares Duchess L (Damsey-De La Rosa, De Niro) and Delta L (Damsey-Weltbekanna L, Weltbekannt) had a successful third show outing. Delta L won all her classes and earned a rousing score of 80.652 percent in her Training Level test and an 80.6 percent in the FEI 5-year-old test. Highlights for Duchess L included winning her First Level test with an 80.313 percent and placing second to Delta L in the FEI 5-year-old test with a 77 percent.
"Duchess' test was really on her game, and was really relaxed yet forward in her tests," Suchanek explained. "Axel Steiner even gave her a 10 on her stretchy trot circle!"
Jessi Lash, performance horse manager at Leatherdale Farms in Minnesota, noted, "The young mares are really settling into the show scene as it was only their third outing. Their success shows how well Mike has prepared them and how smart and eager they are to perform."
Mike Suchanek and Duchess L. Photo by Jessi Lash.
Suchanek was impressed by the fluidity of Hannigan L (E.H. Herzensdieb-Pia Colada, Pik L), a Hanoverian gelding, and the pair won all their classes. Highlights included earning an 82.206 percent and a 77.941 percent at First Level, as well as a 72.561 percent in their Second Level test.
"Hannigan loves to show off," Lash said. "He loves when people watch him go, and he is always looking for an audience.  He had beautifully accurate and expressive tests throughout the weekend."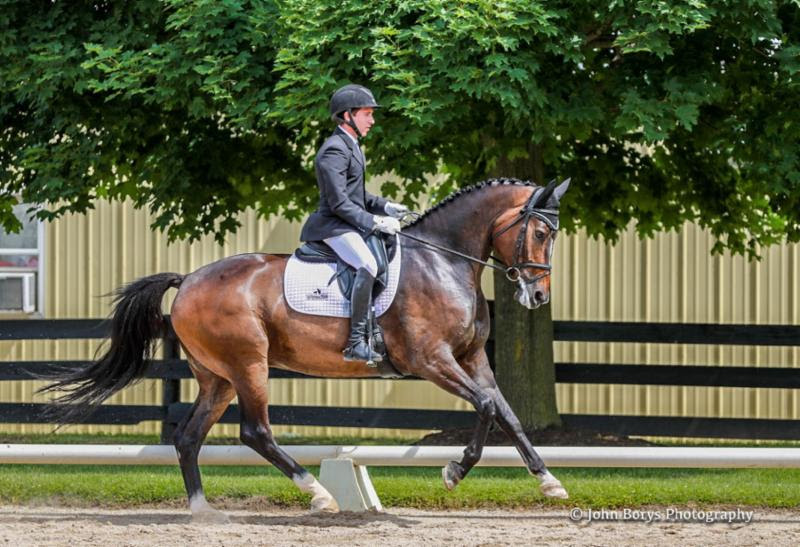 Mike Suchanek and Hannigan L. Photo by John Borys.
Hero L, a 9-year-old Hanoverian gelding (His Highness-Waterlily L, Wolkenstein II), and Suchanek have a special relationship, as he was the first horse Suchanek started for the Leatherdales. The pair has recently moved up into FEI tests, and they wowed the judges. They also earned only blue ribbons throughout the weekend with a 73.816 percent at Prix St. Georges, a 74.118 percent in the Developing Prix St. Georges, and a 70.132 percent in their Intermediate I test.
"Every time Hero competes he performs more confidently," Lash said. "It's been especially exciting to watch Mike and Hero over the years as they have a unique bond. Hero would do anything Mike asks, and Mike gives Hero the confidence he needs. It's really the kind of relationship we all hope for with our horses."
Mike Suchanek and Hero L. Photo by Jessi Lash.
Suchanek has brought along the four horses with the aim of competing at Lamplight Equestrian Center Aug. 24-28 for the Markel/USEF Young and Developing Horse Dressage National Championships. The Minnesota team plans to take a break from showing for the next few weeks so the horses can have down time.
"We really like to keep the horses happy at home," Suchanek explained. "They will  have extra turnout, and we are going to ride them out in the fields to keep them happy. I will not be drilling training but will work on the basics and solidifying my partnerships with them.
"I want to thank Alison Sader Larson for her guidance to help improve my riding, and I am so thankful for Louise Leatherdale," Suchanek concluded. "I am honored to ride for her and show off her horses."
About Leatherdale Farms
Situated 20 minutes from Minneapolis, Minnesota, Leatherdale Farms is a privately owned farm founded by Louise and Doug Leatherdale and dedicated to Hanoverian, Trakehner and Oldenburg breeding. Leatherdale Farms owns a number of prominent licensed stallions. Based in Union, Kentucky, at Bridlewood Farm are the premium elite Hanoverians First Dance (Florestan II), Hampton (His Highness), the premium elite Trakehner, Herzensdieb (Tambour); and the Oldenburg Fairbanks (Flemmingh). Standing in Dorum, Germany, at Hengststation Jens Meyer are the premium elite Hanoverians Damsey (Dressage Royal) and Beltano (Belissimo M). Leatherdale Farms was also the owner of the Hanoverian stallion His Highness, who died in 2007 and whose progeny is much appreciated all over the world.
Save
Save